UNI Corrugated Conduit Transit – cost-effective support for corrugated conduits
2023-09-05
Critical points of cable routing systems in vehicles are boundary elements such as walls, roof or floor. The Pflitsch company offers a special gland based on the UNI Dicht system and intended for cooperation with corrugated conduits, which guarantees safe, tight and efficient passage of power, data or hydraulic cables in the mentioned places.
A conduit transit in the form of a brass gland, based on the UNI Dicht modular system, is an innovative solution that facilitates the safe routing of cables through boundary points in vehicles and facilitates the implementation of non-standard solutions. The corrugated-shaped insert works perfectly with pre-made flexible conduits. Compliance with the EN 45545-2 HL3 standard supported by appropriate certification makes this solution ideal for use in rail vehicles.
UNI Corrugated Conduit Transit also guarantees:
reliable cable protection combined with conduits dedicated to vehicles including: Flexa brand conduits that meets railway standards, e.g. multi-layer PA12+ and PA12F+;
no impact on the properties of the conduit, e.g. by limiting its flexibility;
possibility of choosing between a variant intended for a conduit with a fine or coarse profile;
excellent application tightness;
high resistance to vibration;
IP68 ingress protection rating – the product is resistant to high pressure and changing weather conditions, ensuring long-term application stability;
optimal operation in the temperature range from –40 to +150°C;
modular component cooperating with other solutions from the UNI Dicht series – it can be easily extended with the necessary EMC shielding or additional protection against tearing out the conduit (strain relief);
easy and safe installation;
space saving in limited installation space;
a solution with excellent quality-price ratio.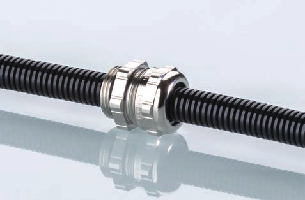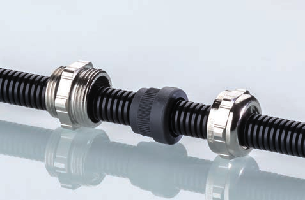 The described cable gland is available in 6 sizes adapted to the most popular conduit sizes, as presented in the table below (other sizes available on request):