SBS®X-75A and SPEC Pak® - watertight and durable for years
2023-11-02
One of the key features of a safe electronic system is its water and dust proofing. To maintain high safety standards, it is important that the solution used meets the appropriate standards. SBS®X-75A and SPEC Pak® power connectors, designed by Anderson Power Products, have a high IP68 ingress protection level. Moreover, they ensure durability up to 5,000 cycles and resistance to unfavorable weather conditions. These properties allow them to be used without worrying about the application's security.
It is worth adding that APP makes every effort to maintain a high production standard. A rigorous control system, qualified and well-trained crew, and the use of the latest production technologies are one of the many reasons for the trust that this manufacturer's connectors enjoy.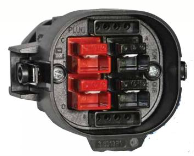 For users who need a solution that allows

to conduct strong DC currents,
to achieve IP68 ingress protection,
for installation despite the small amount of space,
to use not only current contacts, but also additional signal contacts enabling the transmission of additional power control signals, measuring the battery charge status, etc.;
the SBS®X-75A and SPEC Pak® connectors from Anderson Power Products will provide the following benefits:

ability to conduct currents of 260 A per contact,
IP68 tightness,
availability of thousands of power and signal pin configurations of various sizes,
availability of cable-cable, cable-panel and panel-panel connectors,
housing version resistant to temperatures up to -400C and to UV and aggressive chemicals,
protection against accidental disconnection in conditions of strong vibration,
possibility of connecting and disconnecting under voltage,
coding to prevent incorrect connection,
large number of merge cycles,
protection against pulling out the cable,
dedicated manual, pneumatic and hydraulic tools to facilitate contact crimping.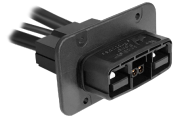 APP connectors can be used wherever it is necessary to transmit DC currents, e.g. in connections:

battery to charger,
battery for UPS,
between battery cells,
battery for the engine,
batteries for controllers,
motor controllers,
chargers for the controller,
in devices and installations such as:

forklifts,
electric vehicles: cars, bicycles, scooters, scooters, skateboards, golf carts, quads, construction, lawn mowers, agricultural etc.,
power devices,
solar and marine energy equipment,
pumps,
mobile robots,
drones,
marine devices,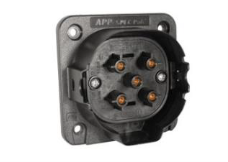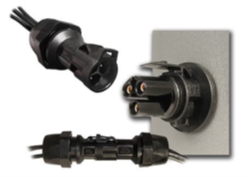 Demonstration of how the 5-position Mid Power SPEC Pak® connector is a safe and tight alternative to NEMA and IEC three-phase AC connections.
The most important features of the 5 Pole Mini PL SPEC Pak® and the connector assembly method.