Cable routing trays and the food industry
2021-07-09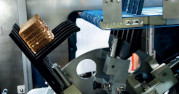 Maschinen-Kooperation-Wuppertal, being aware of need to provide specialized solutions, presented an automated industrial bakery machine. During device designing the company focused on the use of the highest-class components that perfectly fit into the project requirements and guarantee reliability.
Innovative MKW bakery machine uses advanced cable trays from Industrial-Trunking series, and simpler ones, mesh trays, from Wire-Tray series. All the necessary systems were constructed of stainless steel and designed with the intelligent easyRoute solution which allowed significant time savings.
The applied solutions perfectly matched the specific requirements of the project and the general characteristics of the Hygenic application. MKW engineers gained quick access to the wires and the ability to efficiently clean the components with high-pressure water and detergents.
Project implementation with Pflitsch components allowed the machine manufacturer to save 20% of costs compared to traditional installation.